Answers to your Questions
When will my order ship?
Most orders ship within 1 to 3 business days. Orders containing frozen or wet preserved items ship on the first non-holiday Monday after order.
How will my order ship?
Most orders ship via USPS Priority mail. Bulky items, like larger antlers, ship via UPS Ground. Frozen items ship via UPS 3Day or USPS Priority mail, when required.
How do you ship frozen items?
Frozen inventory is triple bagged to prevent leaks should thawing occur. Shipped in an insulated box, with icepacks as needed. We do not use dry ice at this time.
Do you ship outside the USA?
No. Due to US Fish and Wildlife regulations shipping products of wildlife origin outside the USA is very expensive and time consuming. As a result we are not currently licensed to do so.
How soon will my order arrive?
Orders shipped by USPS Priority mail generally arrive in 2 to 4 business days. Orders shipped by UPS Ground generally arrive in 1 to 7 business days.
Can I get my order shipped faster?
Yes. Orders can be expedited to UPS Second Day Air at additional cost.
What is my tracking number?
Tracking numbers are sent automatically upon shipment of your order.
What payment methods do you accept?
Visa, Mastercard, Amex, Discover, JCB, Diners, Maestro & Paypal.
Purchase orders accepted from institutions for orders over $500. Contact us for more information.
Do you accept Money orders?
Yes. Mail your order to Promise Land Tannery, attn: Orders, 228 Cameron Lake Loop Road, Okanogan, WA 98840
Can I return an item I've ordered?
Yes, regular stock items are eligible for return. Custom cut, custom engraved, wet specimens and frozen items are not returnable.
Can I mail my order?
Yes. Mail your order to Promise Land Tannery, attn: Orders, 228 Cameron Lake Loop Road, Okanogan, WA 98840
Where do your products come from?
Our products come from farmers, ranchers, hunters and trappers across the USA. Our items are sourced in the USA whenever possible.
Are your products humane/ethically sourced?
Yes. We have a working relationship with all of our suppliers to ensure items are humanely and ethically sourced in accordance with all local, state and federal laws.
Is it legal to buy these products in my state?
All of the items offered for sale by Promise Land Tannery are legal to buy, sell and barter within the state of Washington, but may or may not be legal in other states. It is your responsibility to know your laws.

Specific State Concerns:
Bears and Cougars CANNOT be shipped to CA.

Bears CANNOT be Shipped to FL.

Spotted Fawns cannot be shipped to LA.
Do not ask us to do anything illegal.

How is antler graded/sorted?
Antler is graded or sorted into 4 categories.
#1- Freshest, nicest antlers. Natural color varies from dark brown to ivory in color. No chews or damage.
#2- Solid antler with no cracking. May have good color with some damage or have faded color. Antlers may also have broken tines, porcupine chews or other damage.
#3- Weathered antler with light to heavy surface cracking.  Antlers are typically very pale in color, grey to white. May have chews or other damage, but very good for decorating. Not suitable for dog chews.
#4/C quality- Very old antlers with heavy cracking, major chewing, partial antlers, etc.
How many antlers in a pound?
Depends on the species. Generally deer antlers will weigh less than a quarter of a pound to nearly 2 pounds per shed. Elk antlers typically weigh 3 to 12 pounds. Moose antlers weigh 2 to 14 lbs per shed.
What size antler do you recommend for table decorations?
We recommend small or Extra small sized antlers. These are roughly the size of a mason jar to the size of a football. They typically have 2 to 5 points.
What is the difference between Sheds and Cut offs?
See image below for a photo comparison. Left pair are shed antlers and right pair are cutoffs.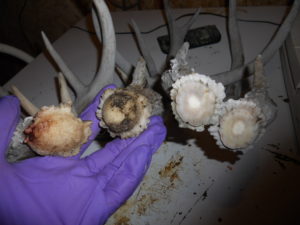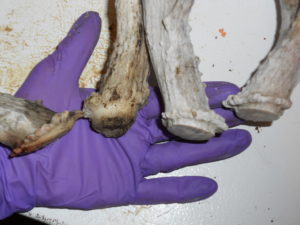 What is the difference between Whitetail and Mule Deer?
Whitetail deer antlers have tines that stand vertically off a main beam and they tend to be more upright and have a smaller footprint. Mule deer antlers have tines that fork on a main beam that also forks. Mule deer tend to be flatter and have a larger footprint.
I want to paint antlers for my party/wedding. What quality of antler works best for this?
For painting we recommend at least a #2 quality antler. This antler has a solid surface that accepts paint well.
I want to build an antler chandelier. How many antlers do I need?
Depends on the design. Small chandeliers use as few as three antlers with large designs requiring  more than 50 antlers. Typically 6 to 12 antlers will make a decent chandelier.
I want to make grips for my handgun. What type of antler do I need?
Elk. Our Gun grip material is cut from specific areas of the antler to offer the best cutablity and workability for 1911 and revolver style grips.
What is the difference between Deer, Elk and Moose antler slices for jewelry?
Deer antler has the most color variation. Greys, creams and whites. Edges can be smooth or textured. Centers vary in density, some are very dense others have a softer center. Elk antler is typically very solid and light colored on the outer shell while the center is extremely porus and easily removed for rings and hoops. Elk's outer edge can be smooth or textured in a brown or white color. Grey colors are are rare in Elk. Moose Antler is very dense centered. Great for runes. Moose is typcally very white colored with a dark brown or grey rim. Moose also takes the most even polish because of its consistent density.